In this dialog window, you can compress your project by removing all inactive elements at once: pages, topics, controls. On large projects this will significantly increase the performance of your work and save disk space. In the settings, you can configure what kind of inactive elements must be removed from the project.
To compact your project, you can either go to the Tools menu and select the Compacting tool menu option or use the Alt+Shift+C keyboard shortcut.
The following dialog window will appear: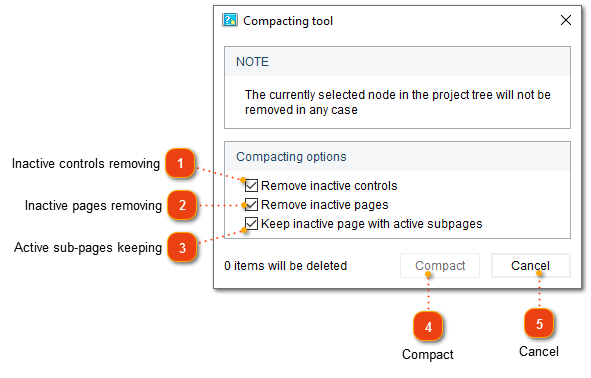 Check this option to remove all inactive controls from the project screenshots.

Check this option to remove inactive pages from your current project. These are pages which are not
exported to
any format.

Check this option to keep inactive pages that have active subpages.

Press this button to start compacting your project.

Press the button to close the dialog and to discard the changes.