Corporate knowledge base template
Using a ready-made documentation template saves a lot of time creating a project structure from scratch and finding and learning information about how to do it.

Dr.Explain introduces templates with ready-to-use structure and sections partially filled with text and graphic content. You can immediately start entering information about your project without worrying about the structure planning and design.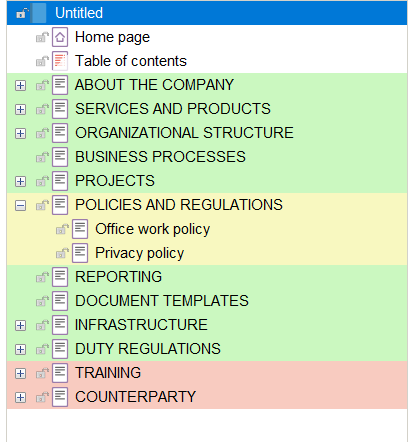 The proposed corporate knowledge base template in the Dr.Explain is only an expert recommendation summarizing our many years of experience in the field of technical writing.

The structure and content of the sections are not strictly binding. You can freely change the templates for the specifics of your software product. So, you can use the templates in various business areas - from engineering to education, medicine, science, financial, and consumer services.
The documentation templates use text variables and customized HTML templates. So, you will presently understand how you may use these Dr.Explain's features to develop your help documentation quickly.
If you think that the program lacks a new specific template and can be helpful to many users, we are ready to develop it. Please describe your task and share your thoughts on which document template would benefit you. We are waiting for your ideas at: help@drexplain.com
See also