CHM file is one of the most convenient ways t
o deliver your software help in a single indexed file along with your program. The HTMLhelp API allows for
opening a specific topic within the CHM file
(e.g. by file name). Thus, with CHM you can easily implement context sensitive help functionality in your software application.
There are several ways to publish your help project to CHM:
click

on the application toolbar;

go to the Options menu and click the Export to CHM menu option;

use the Alt+Shift+M keyboard shortcut.
Once you select this option, the following dialog appears: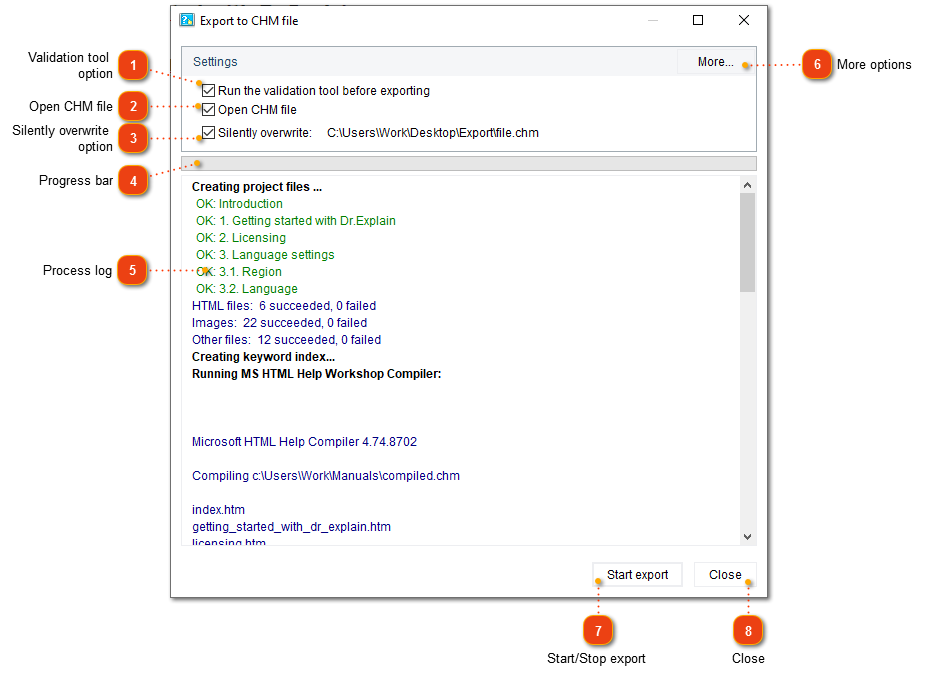 Clear this check box (it's selected by default) if you don't want to automatically open the generated CHM file.

This check box does not appear until you publish your first CHM file. If you select it, you will skip the Save As dialog next time you generate your CHM file.
This bar shows the progress of the publishing process.
This section shows the log messages of the publishing processes.

Click this button to start the publishing process. During the publishing process, this button turns into the
Stop export
button. Use it when you need to stop the publishing process and add any changes to your project.

Click this button to close the
Export to CHM file
dialog.
Upon completion of the publishing process, Dr.Explain will open the generated CHM file (if you didn't clear the corresponding check box):