In this dialog window, you can
create a Google sitemap file for your HTML help pages.
To customize the sitemap creating settings for the current project either:
go the

Options

menu and select the

Project settings

menu option;

or click the

button in the application toolbar.
The following dialog window will appear: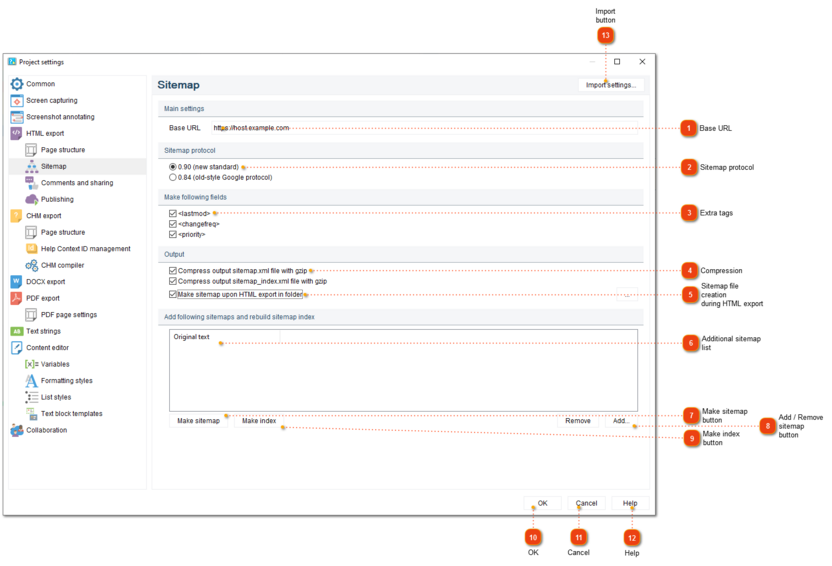 Enter
the base URL for your sitemap here.

Use these option buttons to choose which sitemap protocol/format should be used for your sitemap file.
Specify here as to which extra tags must be added to the sitemap XML file by selecting the corresponding check boxes next to them.

Select this c
heck box to compress your output XML file with a GZIP compression algorithm.

Check this option to specify whether the sitemap file must be created each time you export your project in HTML format. Here you can also specify the name of the folder for the sitemap file.

If you have several sitemaps for different parts of your website then use this list to add them. Dr.Explain will generate the sitemap index file with links to all the sitemaps specified in the list.

Press this button to
generate a sitemap file.

Press this button to generate a sitemap index file.

Use these buttons to add external sitemap files to the index table and/or to remove the existing entities.

Press the button to accept all changes and close the dialog.

Press the button to close the dialog and to discard the changes.

Press the button to show the context help page.

Press this button to
import settings from another project file.