How to write a user manual for software or a WEB service: tips, tricks and tools
What is a user manual and why create one
Every day people create new products, programs, and services. It is often difficult for users to understand some complex programs, so each new product needs its guide. For what?
Most people do not want to do something unfamiliar without a personal, always available, and understandable assistant. The user manual should become such an assistant.
General Tips for Creating User Documentation
Before you start creating a guide, you need to decide on some significant points. For example, to determine for whom you are writing this? For ordinary users who care about the main functions of the product, or people who need special, rarely used functions of the program/service.
After that, it is important to think about
Where will the user read the documentation most often: at home, at work, or in the car maybe?
How often will user view it?
How objectively is the product difficult to understand??
Fr om this, we can conclude how intensively the user will work with the documentation, which means that you can already choose between a short reference book or a voluminous guide.
It is also important that the product documentation is written by a professional. So, if possible, delegate writing to a technical person or analyst who is fully versed in the product.
Having decided on all the points presented, it will become clearer which text style to use and how much text to write. Remember that overly stylistically colored words prevent the user fr om getting to the point. So the best option in most cases will be a neutral-formal style. Write so that the user understands you. Try to avoid technical terms as much as possible, but think about whether your manual will make the complete lack of terms useless.
User Manual Structure
After you have answered the previous questions, create a guide structure. Any fine "guidebook" has a well and logical structure. Start with the title. Informative content will help the reader navigate the document easily.
In the first section, it is desirable to provide general information about the program:
What is the product for?
What tasks does it solves?
What are the main benefits of using for the client?
In the next section, you can specify the main elements of the user interface. It will be difficult for users to understand the software if they do not understand what various interface elements are for, or do not understand the main modes of operation of the software. Describe in simple terms the purpose of screens and windows.
Create a section where you will talk about the most effective ways to use the product to solve typical problems. What the client needs to do and how your program/service helps. Provide information on how to use the program quickly and productively. &nbsp
No guide is complete without sections such as: " Frequently Asked Questions" and " Troubleshooting Common Problems " They deal with questions and problems that users often encounter. To write this chapter, you will most likely need ready-made customer reviews. If you have a brand new product, you can either anticipate your customers' problems or eliminate the item fr om your guide for the first time.
Sometimes technical writers forget about a serious point in the user manual - contact information. This section will help users to contact you even if they don't have any questions and the guide covers all their needs. The client can give advice, share the experience or offer beneficial cooperation.
Tools for quickly creating a user manual
How do you create a user manual if you write it for the first time? Or what if the user manual needs to be constantly upd ated and improved? Or you need special features that are not available in traditional text editors, such as MS Word.
One of the popular tools for creating quality leadership is Dr. Explain, which already has ready-made user guide templates with a ready-made section structure and wh ere it is convenient to update the documentation, no matter how often these updates occur.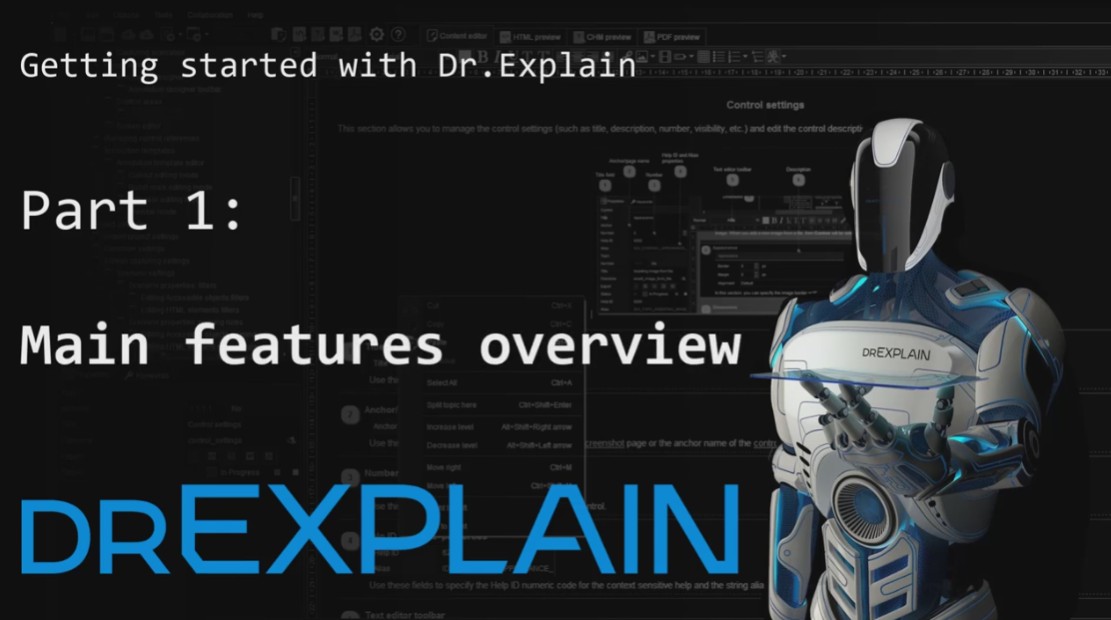 Video review of the main features of Dr.Explain
A convenient feature of the tool is the ability to export the same document to various formats: HTML, CHM, and PDF. A simple and intuitive interface will practically tell you how to quickly view a document and se t it up for output to these formats.
You can create any project in Dr.Explain from scratch or import existing documentation, for example, from MS Word, HTML, or CHM file format, and in just a few minutes create an online help file, a help file in CHM format, or a document in PDF format.

When creating a guide, it is desirable to rely on a predetermined plan. The project tree in Dr.Explain will help you structure the document as you wish. You can add, delete, move sections and rename them..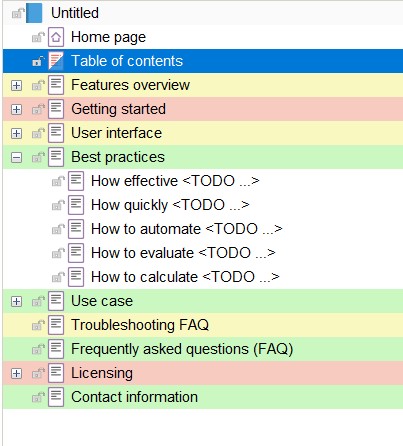 The program has its editor, optimized for working with complex documentation. On the toolbar, you will find all the main functions of the editor. These are text style control, paragraph formatting, inserting links, images, videos, tables, and lists, as well as inserting special objects.
Dr. Explain saves time and effort for its users. Documentation developers often face the problem of reusing the same piece of text and resort to obvious solutions - "Ctrl+c" Ctrl+v" Dr.Explain offers a solution to reuse content-text variables. This solution saves time when you need to use the same text many times, especially if it may change periodically - for example, the version of the system.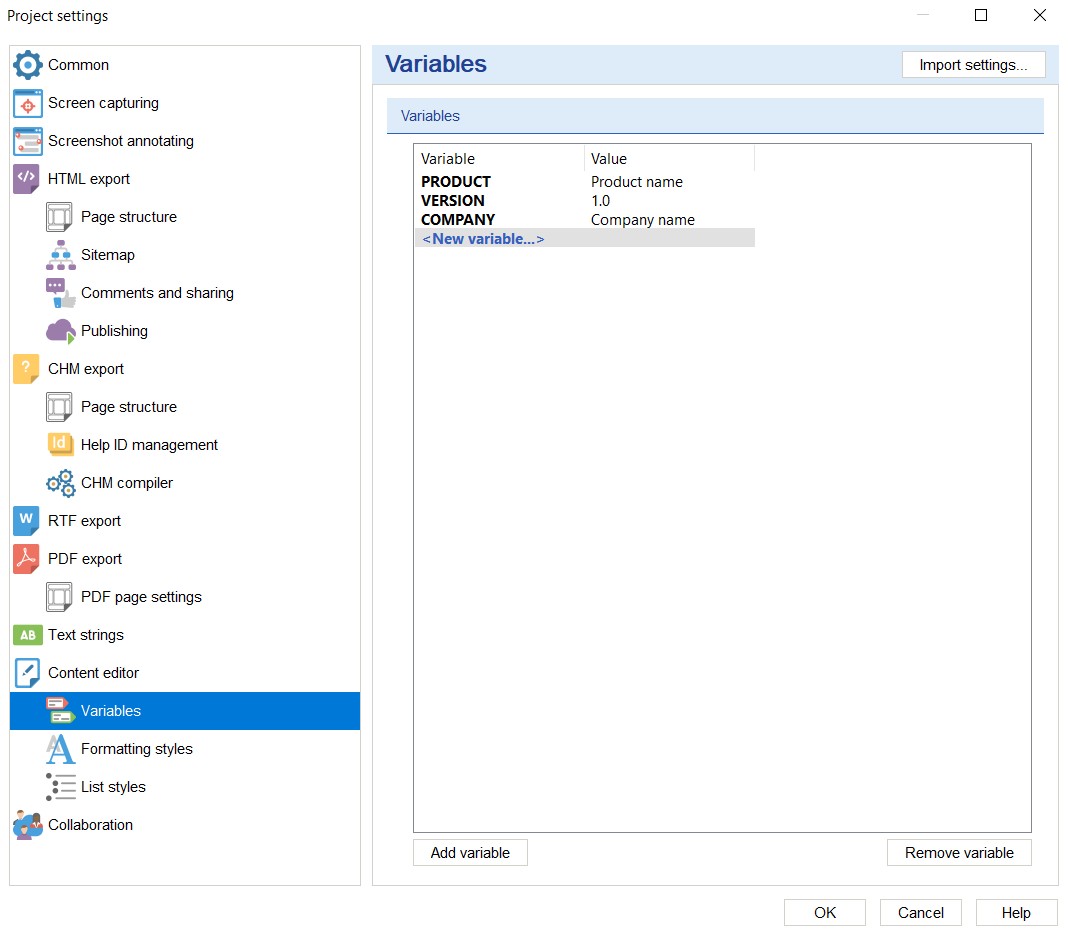 Often, technical writers need to include explanatory callouts when documenting user interfaces. For such cases, the program supports special graphical objects - annotated screens. Most often, screenshots of programs and website pages have annotations. A unique feature of Dr.Explain is the automatic annotation of images obtained by capturing screens with windows of programs or websites. The program analyzes the window structure and adds explanatory notes to all significant elements.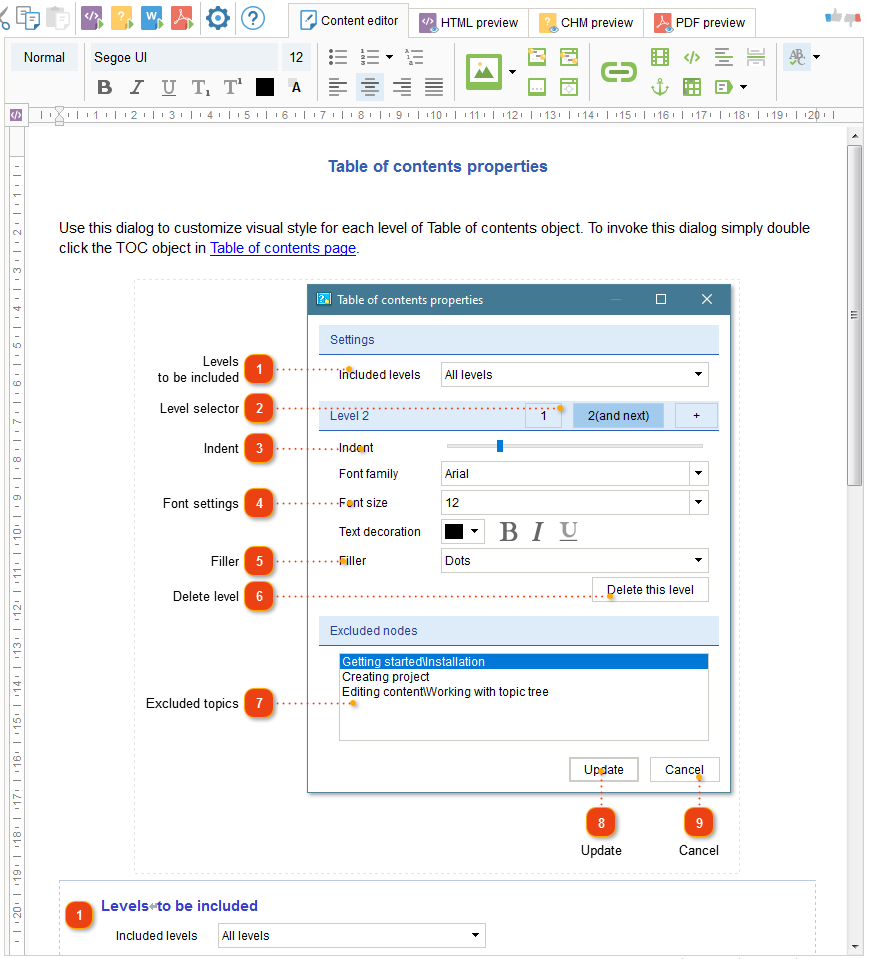 In addition, Dr.Explain allows several authors to work on a project at the same time using the www.tiwri.com service, wh ere you can create an account for free in a couple of minutes. With the help of the service, several people can simultaneously work on different sections of the project without the risk of interfering with each other.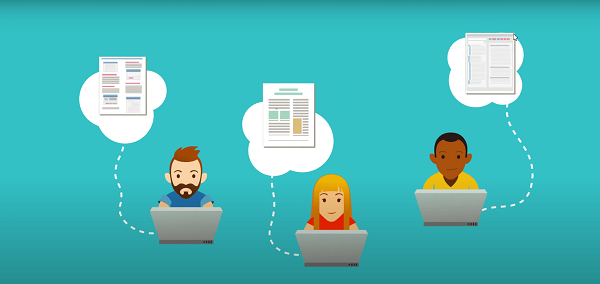 You can try the multi-user mode in Dr.Explain even with a free license. You can create a shared project and fully work with it in multi-user mode for up to seven days.
Finally
Creating and writing good user documentation is a job that takes a lot of time and effort. But if you successfully cope with the task, you can get loyal and satisfied customers. Do not forget that dissatisfaction with poor quality manual can lead to the abandonment of your product. User documentation should become a personal and indispensable assistant. Using Dr. Explain, you can quickly create a high-quality user manual that will help users understand the product, and will allow you to focus on more important tasks - developing and promoting a software product.
See also