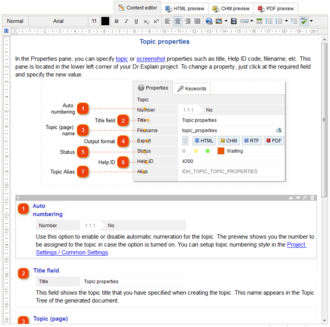 Dr.Explain help authoring tool provides enhanced text editing capabilities. Embedded text editor
supports
rich text format with various font faces and styles, images, tables, numbered and free lists, hyperlinks and
macro variables
.
Support of RTL mode
and
national multibyte encodings
through Unicode, such as Arabic or hieroglyphic languages, makes Dr.Explain a unique tool for creating help files for localized versions of your software systems. Built-in
spell checker
with many national dictionaries will help you to keep your text free of typos and errors.