[CASE] Raptor SSC switched to Dr.Explain, which saves time and money for the company and for its clients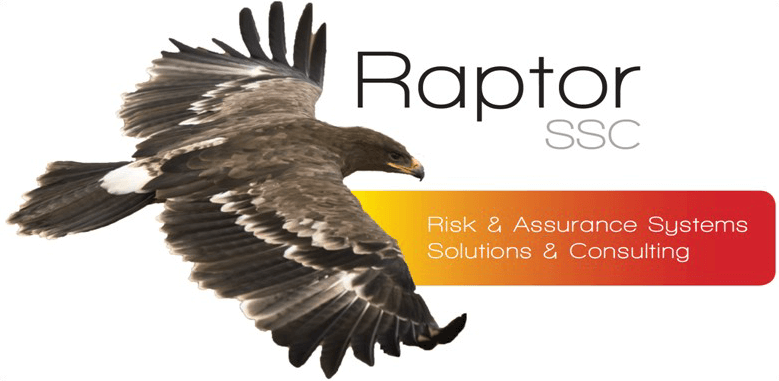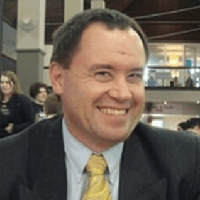 Greg Bergsma, the company's CEO, has shared with us his story about how Raptor SSC has adopted the Dr.Explain documentation writing software, and how it benefits them and their customers.
DE: Please tell us about your company and its projects.
Raptor SSC Pty Ltd (www.raptorssc.com) is a provider of world's first products and services to assist organisations in demonstrating effective due diligence. Through our products, organisations are able to achieve excellence in their assurance and risk management activities, which, in turn, provides a major contribution to corporate strategy. We help make workplaces safer and organisations more efficient, effective, and productive.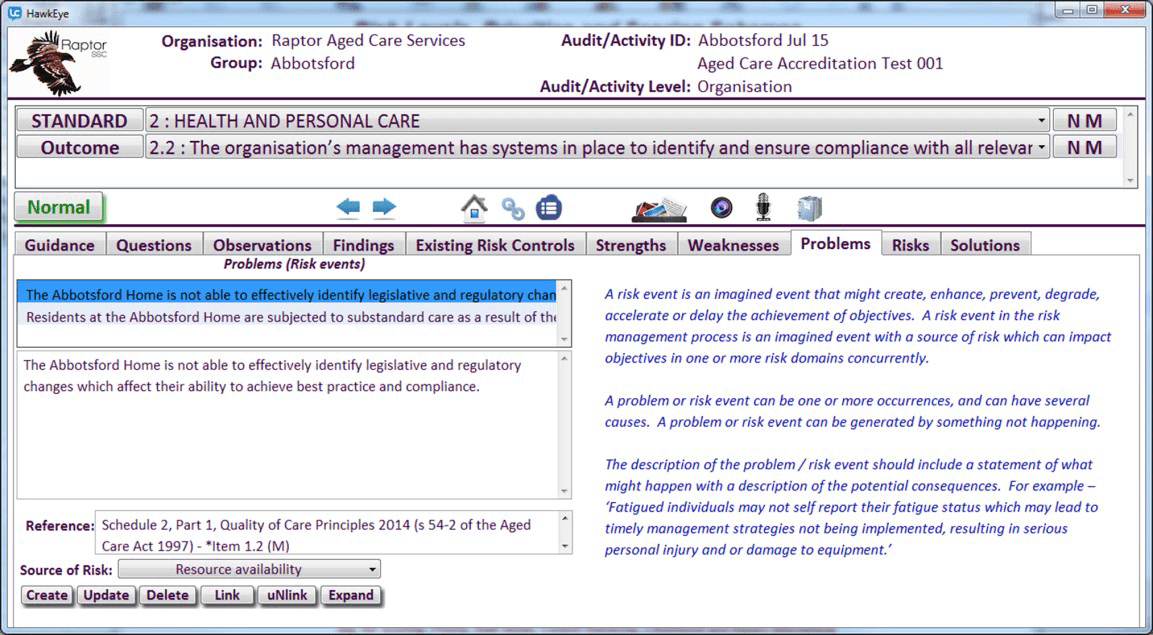 Our HawkEye™ compliance management system helps organisations big and small do great audits, first time, every time for any system. It delivers audit reports at the press of a button, eliminating days of reporting work and providing easy data and trend analysis for better decision-making. Organisations typically spend 30% less time on audits, which leaves them more time to get on with their business, confident in the knowledge their audits help deliver on workplace safety.
DE: What is your main responsibility in the company?
I am responsible for strategic direction and technology innovation, and research and development for the company.
DE: Why is user help documentation important for you and for your clients?
Users need up-to-date help documentation at their fingertips. They need it in a variety of forms to suit how they use technology. Some like printed manuals, some like e-manuals, some like context-sensitive help related to the function which they are using. Not everything is self-explanatory, thus the need for help information in the form or forms the user wants.
DE: How did you manage help docs before?
Our user manual has been on the "back burner" for well over a year. The amount of work needed to complete it was so daunting that the project kept getting deferred. Our first attempt, using MS Office, including Visio, was quite labour-intensive and didn't provide all the help options that we wanted to deliver. Approaching the next major release of our system, we could wait no longer for the help documentation. But we knew we had to do it smarter than we had done previously.
DE: Did you try other solutions?
We reviewed a number of options through various websites. The review on the Dr.Explain website from Victor Wheeler was particularly useful. It seemed that Dr.Explain would be easy to use and very cost-effective for us, and we proceeded with a trial.
DE: Why did you choose the Dr.Explain software?
During our trial, we used Dr.Explain to develop our help documentation and evaluate how well it produced HTML, CHM, and PDF documentation, supporting the different formats in which we expect our users to access the help documentation. The development was particularly straightforward, and the image annotation was a very impressive feature. So we purchased a license and then found that tooltip mouse-overs enhanced the user's experience even further.
DE: How does the Dr.Explain benefit your business?
The end result is a very professional help system that delivers the right documentation across the required variety of platforms (PC, Mac, or any system that has a browser or a PDF viewer) first time, every time – like HawkEye. Development is straightforward, as is updating the help resources. Dr.Explain enhances our already slick and professional product with a flexibility that users will enjoy. It also makes it very easy for us to update our help resources. This saves time and money for our clients and for us.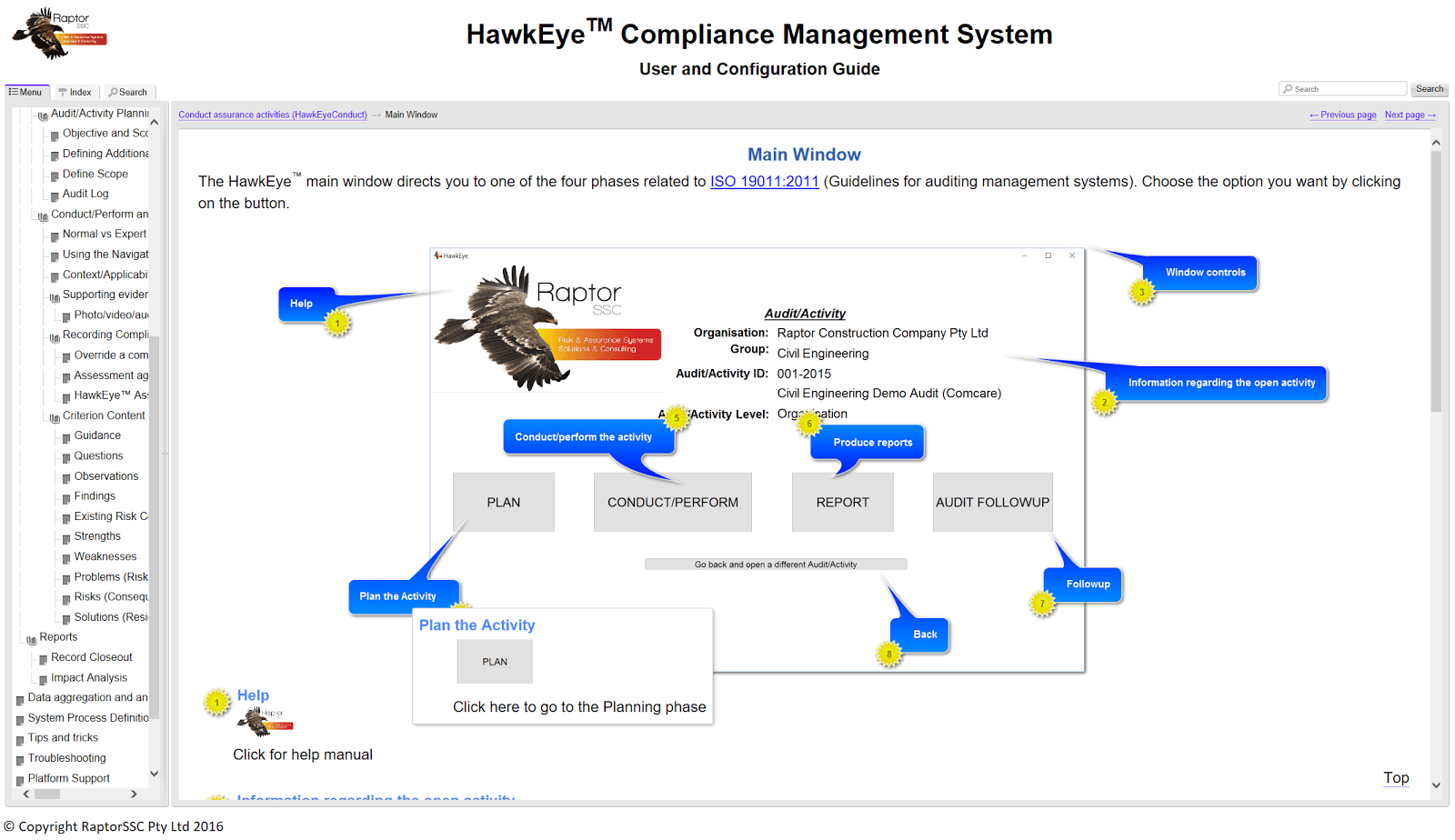 DE: Would you like to add something?
The support we have received from Dr.Explain during our evaluation was timely and highly professional. Our company is in Australia, and we usually experience delays when dealing with overseas companies due to the significant time difference. Dr.Explain responded to our queries on the same day in almost all circumstances. This quickly cleared roadblocks, so we could keep powering on with our help system development to produce a very professional result fast.
# # #
Please find more about how Raptor SSC products and services assist organizations in demonstrating effective due diligence at www.raptorssc.com
See also