Dr.Explain has four view modes: Content editor, HTML preview, CHM page preview, and PDF preview.
Using the corresponding buttons you can easily switch between Editing and Preview modes:

Content editor

is the pane where you add and edit the contents of your topic. This mode is used by default.
To see how the contents of topic will be displayed in an HTML page, click

.
Use vertical main splitter to resize the preview area to change its width and to see the mobile layout version of the web help.
The web help layout is responsive and is optimized for small screens of mobile and tablet devices as well.
To preview your topic in CHM, click

.
To preview your topic in PDF, click

.
Note
: only the current topic will be exported to a temporary PDF file, so the page numbers might not be shown correctly.
Export entire project to PDF
to view actual page numbers.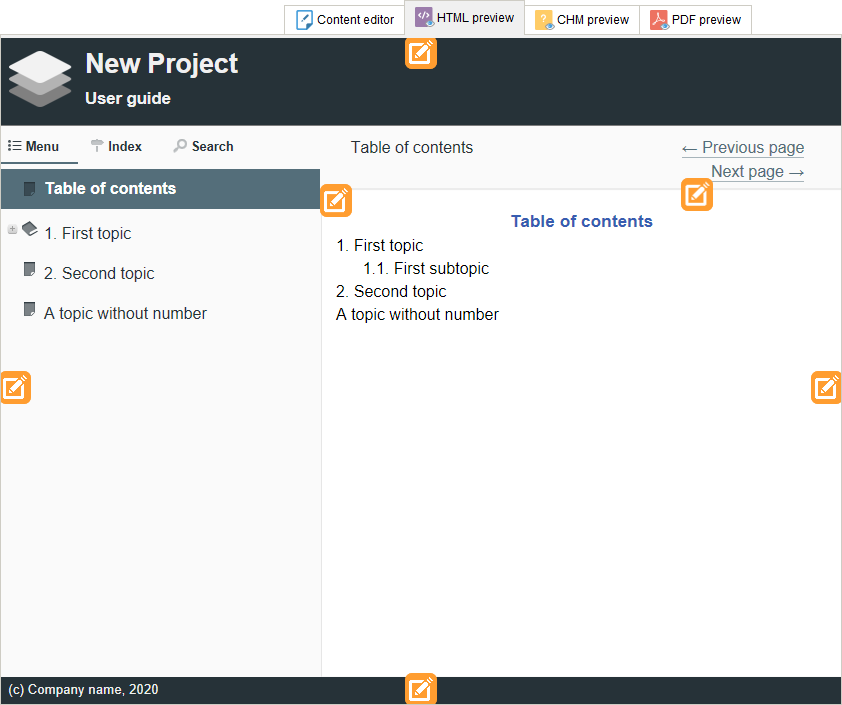 When you open a preview of a topic either in HTML or CHM, you can see the Print preview by clicking the corresponding link: